Our Managed IT Services Program Gives You:
Peace of Mind
With 24/7 monitoring, our team proactively monitors and reacts so you can focus on your business.
Increased Productivity
Because we monitor your network infrastructure proactively, we are able to head off network problems before they become "issues", resulting in substantial cost savings and less downtime.
Fixed-Fee Plan
For less than the cost of a single new hire, you'll have access to our experienced team of consultants and technicians.
Cyber Security
Built into our Managed IT Service plans is a 3 layered approach to security. We deploy end-point security, managed firewall security and DNS or Internet filtering. Giving you the peace of mind that you are protected.
We know how it is
We know that small businesses are often burdened with managing their IT in-house. Maintaining, updating and integrating technology can be a full-time endeavor, taking focus away from operations and your business growing. That's why we offer Managed IT Service plans. Our team of highly-trained engineers and consultants will design, implement, manage, and support a wide range of solutions to help you gain more from your IT investments.
Your business is becoming more dependent on technology every day and ensuring your network is operating at full capacity can be a daunting task. By partnering with EnvisionIT Solutions for your Managed IT Services, you receive proactive, expert attention around the clock and ongoing monthly IT support and service for all your technology needs.
Sign up for a FREE Network Assessment ($499 Value)
The Value of Managed IT Services
When something goes wrong with your IT investments, your business comes to a stop. With a standard break/fix service contract, you have to wait for something to break before your provider can fix it. That equation seems to make sense – even though it could easily result in hours of downtime. But what if you could keep your IT investments from breaking in the first place?
With EnvisionIT Solutions' Managed IT Services, you receive expert attention for your network and ongoing IT support for all of your technology needs to ensure that you have seamless productivity within your systems. Our strategic solutions focus on minimizing, or altogether eliminating the burden of managing, operating and optimizing a company's IT infrastructure, and help clients navigate the ever-changing IT environment.
Want to learn more?
Here are a couple of our related blog posts.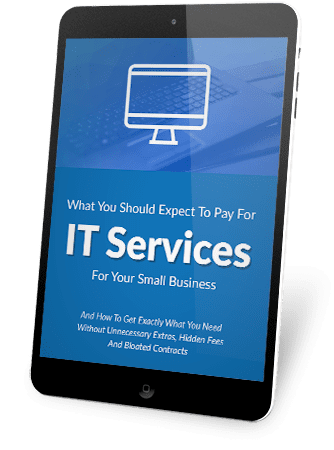 What You Should Expect To Pay For IT Support For Your Small Business
The 3 most common ways IT service companies charge for their services, and the pros and cons of each approach.
A common billing model that puts ALL THE RISK on you, the customer, when buying IT services; you'll learn what it is and why you need to avoid agreeing to it.
How to make sure you know exactly what you're getting to avoid disappointment, frustration and added costs later on that you didn't anticipate.
Download the Free eBook today to learn more